hSenid Mobile Solutions concluded TADHack Sri Lanka 2018, the biggest Telco Application Development Hackathon in the world, successfully for the 5th consecutive time!
TADHack 2018, took place simultaneously in Berlin, London, Chicago Johannesburg and another 20+ cities around the world, bringing together innovators and entrepreneurs who are passionate to code, innovate, learn and share their new ideas using the latest Telecom APIs and technologies.
A record number of 1500+ registrations were received from all parts of the country for TADHack 2018, which incidentally was the location with the largest number of registrations globally.
Teams were encouraged to use hSenid Mobile APIs and latest technologies such as VR, Blockchain, AI, IoT or something technologically disruptive, to do their techie innovations.
Among the registrants, 14 teams were chosen to compete for local prizes as well as with an aim in achieving the TADHack global prize pot of $ 20,000.
"We wanted TADHack to become a platform, to create a group of young Sri Lankans who can become entrepreneurs, build companies and bring them to the global market and put Sri Lanka on the map. Because one of our purpose of existence was to shine the unshined gems of Sri Lanka and humbly bring them to the world", said Dinesh Saparamadu, CEO of hSenid Mobile Solutions, a partner for TADHack Global and organiser of TADHack Sri Lanka 2018

Phoenix team showcased Project GenesonSole, a solution to all the diabetes patients in Sri Lanka, won first place while Project KOYA by Team Horizon who came up with a solution to find the location of a public bus, as first runners up.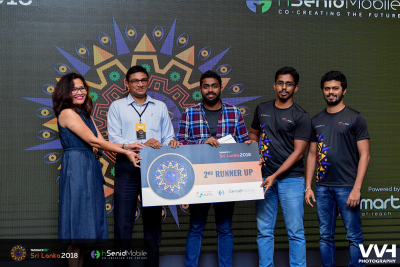 Apart from the 24-hour coding and developing, hSenid Mobile Solutions has, like previous years, organized entertainment to break the tedium and make it a fun event. The event was held at the Dialog Axiata Auditorium in Colombo on 13th -14th October 2018.