bile self-care solutions are becoming a convenient way for mobile operators to engage with customers 24/7 while enhancing customer experience and minimizing the cost to serve. Mainly it facilitates monitoring accounts and promoting additional services where operators certainly can grab more business opportunities, assure customer retention and convert them into brand patrons.
Here are the key features any Mobile Operators' self-care solution should have to achieve a 100% customer retention rate.
Customer insights through Google analytics
Actionable insights are vital in any business and, "know-your-customer" is the most valuable aspect of modern business. Reveal customer behaviour through a self-care solution is a great asset for any telecom operator and, it has been simplified by google analytics with ease of integration mechanisms. Information on channel popularity (android or iOS), page-wise access data, average session time and many other statistics support cross-sell and upsell the current products and services to new customer segments.
Satisfy customers by providing a personalized service
Multiple services through a single interface is a key feature attraction where empower end-users to manage their accounts easily, update or add new packages/payment methods instantly, while enabling them to view their usage of voice/SMS/data and money seamlessly.
Consequently, high availability and the efficiency of services been delivered will improve customer satisfaction and brand loyalty significantly. Ultimately, customers will experience a trouble-free prepaid mobile account management with the self-care solution and, that will lead to converting a general customer to an ecstatic customer.
Target marketing through push notifications
Use of push notifications has emerged as a powerful marketing strategy and, it plays an efficient role in communicating your messages to your audience. It will enable operators to reach out to customers seamlessly, drive user engagement at the best time with the best solutions and, increase conversion rates immensely.
E.g: When the quota is about to be reached, the app itself can send notifications/alerts to upgrade the plans or top-up data.
Instant chat via live agents
Real-time engagements with end customers using live chat agents have become a trend in every business vertical and, surprisingly it has been performing beyond customers' expectations. It doesn't matter who replies from the other end, but what customers want is accurate and quick information hence, this feature enables operators to share information effortlessly and provide answers at their fingertips.
Instant chat via live agents builds a close relationship with the customer base by sending notifications on bills, available offers, and service outages on the application or even thank subscribers for their loyalty.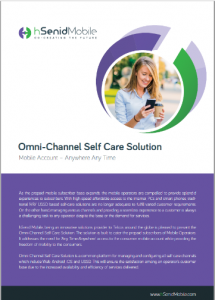 A Self-care solution comprising the above features will surely bring convenience to the operators' customers with a seamless experience and enables operators to win the competition by maintaining a 100% customer retention rate. 
hSenid Mobile's Omni-Channel Self Care Solution
Mobile Account– Anywhere Any Time
hSenid Mobile's Omni-Channel Self Care Solution is built to cater to the prepaid subscribers of Mobile Operators. With the newly introduced advanced features addresses the need for 'Any Time-Anywhere' access to the consumer mobile account while providing the freedom of mobility to the consumers.