hSenid Mobile hosts TADHack Sri Lanka for 7th time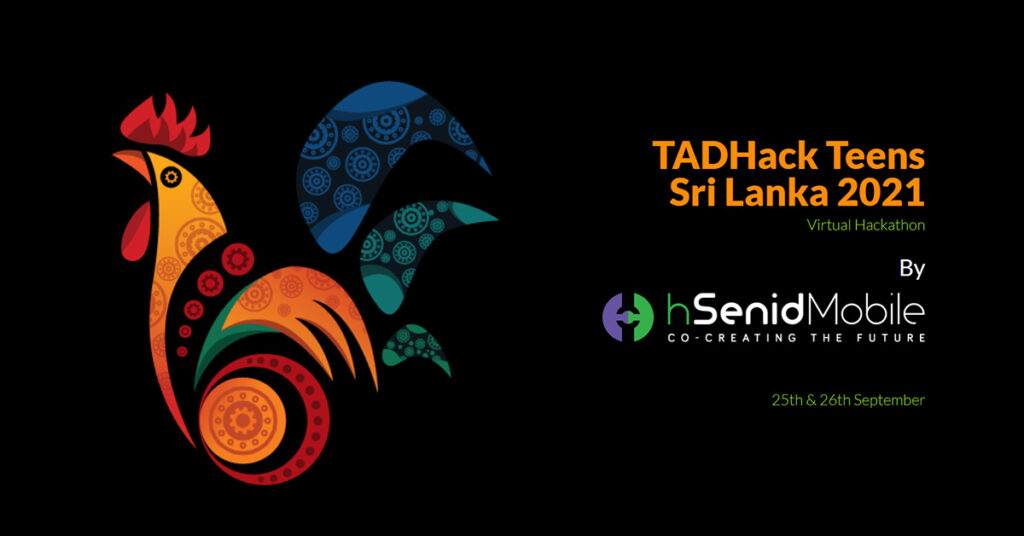 TADHack Global 2021, the world's largest telco application development hackathon, was held on 25 and 26 September virtually, for the second consecutive year.
Teams from around the world connected to hack during the main event. hSenid Mobile was the main sponsor of TADHack Sri Lanka 2021, along with its partnership with Sri Lanka's premier telecom service provider, Dialog Axiata powering the event via Ideamart APIs.
"This year's positive overall TADHack participation has once again proved to us that through resilience and dedication, young talent in Sri Lanka will work hard and strive for success even during a second consecutive virtual event. Such eager participation indicates to us that as the world changes our local talent is willing to adapt to changing needs and times," hSenid Mobile CEO Dinesh Saparamadu said.
TADHack 2021 hackathon was another great example of technology's reach to areas outside of Colombo, which attracted twenty teams from all around the island. Of which, six teams were shortlisted to hack over the weekend for the main prize. This year was another great example of diversity and inclusion with a number of women in STEM in participation.
TADHack 2021 saw local developers design and develop unique solutions by pairing API capabilities with modern technologies within in demand digital ecosystems such as IoT and AI. These solutions were built to enable current needs within industries such as IT, education, healthcare and transportation.
Judges for the main event included: Professor Gihan Dias, of University of Moratuwa and CEO of LK Domain Registry; Business Consultant, Trainer and Coach Niranjan De Silva; Ideamart General Manager Viranga Seneviratne; Seylan Bank CIO Harsha Wanigatunga; Hutch CMO Hamdhy Hassen; University of Moratuwa Department of Computer Science and Engineering Senior Lecturer Vishaka Nanayakkara; Vodafone Fiji Manager Digital Payments Systems and Value Added Solutions Deepak Baran; ComBank Digital Business Development Head and 'Flash' Product Lead Anush Gunarathne; and Institute of Technology Senior Lecturer at Informatics Pumudu Fernando.
TADHack Sri Lanka 2021 winner was 'Team In Case of an Emergency (ICOAE)' from University of Colombo School of Computing (UCSC) (Yasith Samaradiwakara, Isuru Harischandra, Nisan Abeywickrame, Asela Pathirage, Naveen Rajan). The winning team would also be presented with the opportunity to work with industry experts from hSenid Mobile and Ideamart to take their product to market via a minimum viable product (MVP). The team was awarded a cash prize of Rs. 50,000.
The first runner up was 'Team Proktara,' also from UCSC (Suvin Nimnaka Kodithuwakku, Dilhani Gamhatha, Nandula Perera, Dilan Perera, George Raveen) who won a cash prize of Rs. 30,000. The second runner up was 'Team Ayush' from Informatics Institute of Technology (Lasal Jayawardene, Chamika Wijerathne, Rusini Gunarathne, Kirthika Senathiraja, Janindu Pathirana) who won a cash prize of Rs. 20,000. All cash prizes were sponsored by Ideamart.
Moreover, both ICOAE and Proktara teams competed at the TADHack Global Awards under the 'Telnyx category,' which was a competition for products created with Two-factor authentication (2FA) to validate SMS, phone call, WhatsApp, Viber or more with custom 2FA implementation. The two teams each won $ 250 and $ 200 in cash prizes respectively.
The judges were immensely pleased with the event and how it was organised and shared some of their remarks:
"I was pleasantly surprised to see the very high degree of innovation of these young entrepreneurs. These innovations can create significant value to society, as they were solving real-life problems relevant to the times we live in. hSenid Mobile did a wonderful job in organising this. Wishing all the participants great success," – Seylan Bank CIO Harsha Wanigatunga.
"It was a pleasure indeed to be in the panel of TADHack Sri Lanka once again. A fantastic platform to nurture the youth into great innovative minds. It is wonderful to see the high quality of innovation that is coming out today, and importantly to note that not only are we seeing great innovations, but entrepreneurial adept as well!" – Hutch CMO Hamdhy Hassen.
"It was a great event. Managed professionally. The presentations and demonstrations were interesting and useful with innovative thinking" – Business Consultant, Trainer and Coach Niranjan De Silva.
Additionally, aside from the hacking main event this year, organisers at TADHack Sri Lanka hosted a multitude of other interactive sessions during both days to educate and entertain participating teams.
"I am a big fan of the countrywide innovation ecosystem that hSenid Mobile and Ideamart have created in Sri Lanka. It is an example for the rest of the world" – TADHack Global Founder Alan Quayle, addressing the gathering.
Founded in 1997, with the aim of supplying high-quality software products and services to our customers worldwide, hSenid Mobile is currently carrying out operations from Bangladesh, Singapore, and Sri Lanka with a global clientele spanning over 20 countries.